Welcome to Crockett Island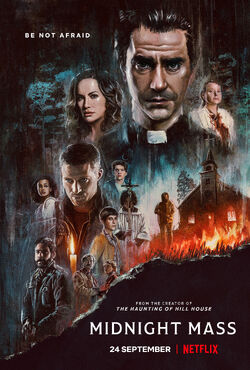 Midnight Mass is an American horror series created by Mike Flanagan for Netflix.
From The Haunting of Hill House creator Mike Flanagan, MIDNIGHT MASS tells the tale of a small, isolated island community whose existing divisions are amplified by the return of a disgraced young man (Zach Gilford) and the arrival of a charismatic priest (Hamish Linklater). When Father Paul's appearance on Crockett Island coincides with unexplained and seemingly miraculous events, a renewed religious fervor takes hold of the community - but do these miracles come at a price?
Created and directed by Flanagan, the seven episode limited series also stars Kate Siegel, Rahul Abburi, Crystal Balint, Matt Biedel, Alex Essoe, Annarah Cymone, Annabeth Gish, Rahul Kohli, Kristin Lehman, Robert Longstreet, Igby Rigney, Samantha Sloyan, Henry Thomas, and Michael Trucco. The series is executive produced by Flanagan and Trevor Macy for Intrepid Pictures.
Season 1 of Midnight Mass is NOW STREAMING on Netflix
About Us
We're an encyclopedia run and maintained by people just like you! Created by fans, for fans, the Warrior Wiki is dedicated to building a comprehensive and informative resource about all things related to Midnight Mass.